As news breaks of the death of Arizona Senator John McCain, we are reminded of a long career in the Senate, but particularly of his 2008 campaign for the Presidency.
McCain was one of an increasingly small number of Congressional representatives to take an interest in Northern Ireland. The McCain's are native to Counties Donegal and Antrim and in his autobiography, McCain reported that his distant relative, Hugh Young, from an Ulster-Scots family in County Antrim, first arrived in the United States in the 18th century. McCain had taken an interest in Northern Ireland before his campaign for the White House.
McCain was present on St Patrick's Day 2005 when Senator Ted Kennedy famously refused to meet with Gerry Adams, following the Northern Bank robbery and the murder of Robert McCartney, instead meeting with McCartney's sisters. McCartney's sister Donna commented:
It is great to hear the applause just watched Adams during the Senator's speech. He stared ahead and looked really grim. I didn't expect him to clap when there was criticism of Sinn Fein, but he didn't even put his hands together when McCain praised our courage. That speaks volumes. I realise now how badly this is going for Adams.
The previous evening, McCain had addressed the American Ireland Fund gala where he was awarded their Distinguished Leadership Award. In his speech, McCain noted:
The political situation in Northern Ireland is changing as well, and I'd like to be serious for just a moment. In the North today, the vision of peace, enshrined in the Good Friday Agreement and based on inclusive power sharing, is available to all. When I was in Ireland in December, after the Leeds Castle talks and just before the British-Irish settlement was published, the North was on the cusp of a permanent peace. But despite the valiant efforts of the Taoiseach and Prime Minister Blair, peace proved elusive once again. Historians may look back at this time as a defining moment. The failure of the talks, followed by the bank robbery in Belfast and the IRA murder of Robert McCartney, has unleashed courage at the grassroots level that has been lacking in the leadership of the IRA. People like the five McCartney sisters have bravely said out loud what everyone has known for years – that enough is enough.
McCain, much like many Republicans in the GW Bush era, pressed Sinn Fein for further progress in the peace process:
Sinn Fein is faced today with a historic choice. There has been endless debate about Sinn Fein and its ties to the Irish Republican Party. I say let's end the debate, the charges and countercharges, and recognize what we have known for years – that there is simply no place in a democracy for a private army engaged in illegal activity. It is not enough for Sinn Fein to cut its ties to the IRA. The political leadership should join the call for the IRA to disarm, demobilize, and disband, once and for all. Stealing from banks and slaying men in the streets to settle personal grievances are not the acts of freedom fighters. They are the work of a small minority trying to hold back the forces of history and democracy, and they hurt the very people for whom they claim to fight.
McCain added:
the IRA must disband, Sinn Fein must foreswear ties to any paramilitary remnants, and the Democratic Unionist Party must show a real willingness to share power. These steps, which will enable an end to violence and the restoration of democratic institutions, are simple – but difficult.
In 2007, the Irish Echo reported that British Prime Minister Tony Blair had asked McCain to reach out to Ian Paisley to ask him to share power with Sinn Fein.
During the election campaign, McCain became the first Republican to appear before the Irish American Presidential Forum, when he spoke to guests in Scranton, PA, on 22 September 2008. During his speech McCain joked
You are very kind to invite someone with a name like McCain, a Scots-Irish descendent whose family came to the New World some generations ago. I hope you won't hold it against us - I do try to get back to the island as often as possible.
Before he spoke, at length, about the global financial crisis.
Most significantly, from the perspective of Northern Ireland, McCain stated:
There remains hard work ahead. It is an honor for the United States to be trusted as an honest broker by both parties to the Good Friday agreement, and if I am elected President, I will continue America's leadership role. I am committed, as I know the American people are committed, to furthering the bonds of cooperation that have been forged in Northern Ireland's peace process. As a demonstration of that commitment, I will continue the practice, begun by President Clinton, of appointing a U.S. Special Envoy for Northern Ireland. I know Senator Obama has questioned whether that appointment is needed. I would urge him to reconsider.
Congressman Richard Neal, the chair of the Friends of Ireland in the House of Representatives in 2008, wrote a lengthy article extolling the virtues of the Obama-Biden ticket in 2008, arguing that "I am certain that an Obama administration will make the pursuit of permanent peace and stability in Northern Ireland a top priority". Neal continued to argue that McCain had not, in fact, been a partner for peace in Northern Ireland:
In an article in Foreign Affairs, he said President Bill Clinton's efforts were "romantic" and accused him of undertaking his tireless work for peace in order to curry favor with Irish Americans.

He criticized the decision to grant Gerry Adams a visa, a development now considered crucial to the success of the peace process. He claimed our role in Northern Ireland was severely damaging our relationship with Great Britain.
In fact, at the time, these views were entirely consistent with those of many in the United States and United Kingdom. Clinton's interventions on Northern Ireland were clearly crucial to the peace process, but the Adams visa was very clearly a major political gamble - and the fact that allowing Adams into the United States in January 1994 did not secure an immediate - or indeed lasting - IRA ceasefire caused serious issues between Clinton and Prime Minister John Major.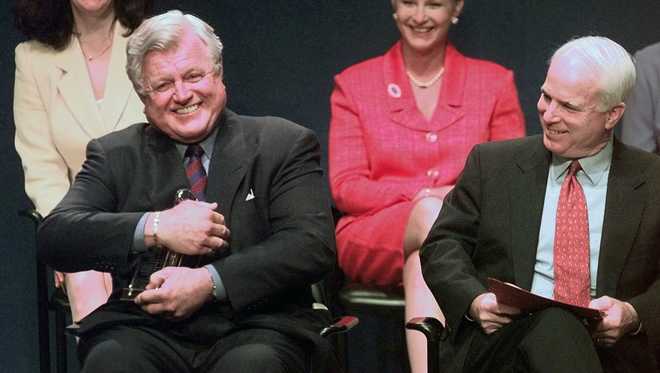 In the event, Senator Obama won both the electoral college, by approximately 190 EC votes, and the popular vote, by approximately 10m votes. McCain's observations in his Scranton speech proved astute, however, and Obama neglected the Special Envoy role. On 1 December 1994, President Clinton appointed George Mitchell as Special Adviser to the President and Secretary of State for Economic Initiatives in Ireland. In everything but name, this was the US Special Envoy to Northern Ireland that Clinton had pledged to create two years previously, during his campaign. The role of Mitchell in the peace process is a matter of historical record, and it is telling that after Mitchell left the post in 2001, President George W Bush appointed Richard Haass to the role. Haass was succeeded by Mitchell Reiss and Paula Dobriansky before Secretary of State Hillary Clinton appointed Declan Kelly to the post in 2009. After Kelly stepped down in 2011, the post went vacant for three years.
It is also significant that in 2010, with a dispute over the devolution of policing and criminal justice powers calling a halt to political progress, Kelly reached out to former President Bush to press the Ulster Unionists to act. One source described the move as "This is the most active thing George W Bush has done in his post-presidency period. He has been incredibly restrained and diplomatic since leaving the White House. He has maintained radio silence".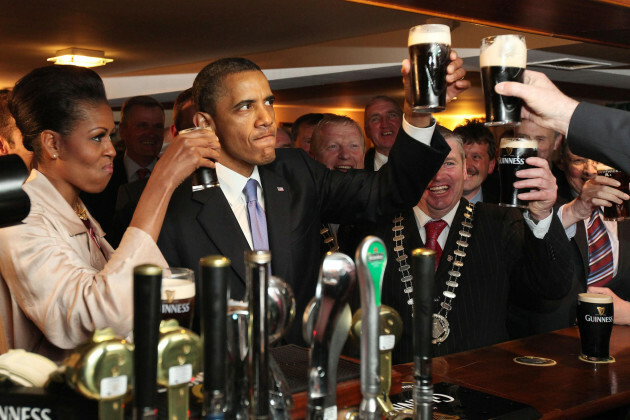 Whteher a hypothetical President McCain would have actually been a better friend to Northern ireland than President Obama was remains a matter of conjecture. it does, however, seem fair to posit that on this issue, McCain would have been a stronger hand in the Northern Ireland peace process. With the current impasse at Stormont, with costs estimated at approximately £30m per year, now lasting over 500 days with little end in sight, one must wonder how different things might have been had there been a more engaged partner in Washington DC over the past decade.