On the ninth and tenth of August 1971, the British Army enacted Operation Demetrius. This was a mass arrest and internment operation that saw nearly two thousand people imprisoned without trial for suspected membership of and involvement paramilitary organisations. It had worked with some success during Operation Harvest, the IRA's so-called "Border Campaign" of 1956-1962 and its implementation north and south of the border seriously hindered the ability of the republicans to launch their flying column attacks on military installations on the northern side of the Irish border.
Most commentators are in agreement about the significance of the Falls Road Curfew of June 1970 in souring previously cordial relations between British troops and the nationalist communities of Northern Ireland. Most also agree that Bloody Sunday was the act which drove recruits towards the IRA in their masses. Internment is often seen as merely an accelerator of a process of decline which had already begun. Although definitely part of a sequence of events which led, in 1972, to the deaths of nearly 500 people, internment was arguably the definitive event in the history of the Provisional IRA.
Then a young volunteer in the Ballymurphy PIRA, Richard O'Rawe reflects that 'Prior to internment there was an IRA campaign going on, but I'm not so sure it had the widespread support that it needed to endure for any sustained period but internment gave it that.'
Just under half way into their eighteen month residential tour, based at Holywood barracks was the 1st Battalion of the Parachute Regiment. 1PARA, as they were known, were not long returned from a stint in Aden, as captured in Aaron Edwards' recently published "Mad Mitch's Tribal Law". Military ethos had been shaped by experiences in Aden, as noted by Lt. Gen Alistair Irwin, who would later serve as General Officer Commanding Northern Ireland:
What we had in 1970 was an army that was still very much conditioned to regard insurrection as something that was necessarily bad and what you did was hit people over the head until they said "ok, fine, we've been naughty boys and we'll behave better". I don't think that there was anything wilful or malign in this; it was what we had come to expect in the decades before we were sent to Northern Ireland. What in effect we saw was a bunch of people who were misbehaving and what we needed to do was to be tough with them and say "get back in order" and we expected that they would.
Residential tours allowed married soldiers to bring their families. The battalion's second in command wrote to the families of all members of the battalion warning them not to travel into central Belfast and to remain extra vigilant. All three battalions of the regiment were used liberally during the early years of the troubles. As an elite fighting unit of the British Army, the regiment personified the aggressive counter-insurgency strategy which the military had applied to recent deployments in Aden and Malaya. As violence began to escalate in Northern Ireland, calls for harder measures against the men of violence grew louder.
In early 1971, there were indications that the Irish Government was prepared to introduce internment. Internment, introduced both north and south of the border, had proven successful in countering the IRA's Border Campaign between 1956 and 1962. The border campaign fizzled out and the IRA embarked upon a period of introspection until it was revitalised by the civil rights protests of the late 1960s.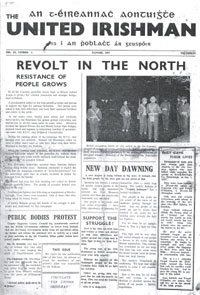 In late 1970, Taoiseach Jack Lynch cited the threat of high profile kidnappings as reason for the continuing possibility of reintroducing internment. Eamonn McCann mocked Lynch, describing his claims as being like a "Walter Mitty dream". Southern commentators remarked at their surprise given the perceived lack of republican threat to the southern state at this time. The collapse of the Arms Trial earlier that year had undoubtedly factored in formulating the opinions of several southern figures.
The mere threat of internment reawakened the culture of protest, which had proven so divisive during the late 1960s as the Northern Ireland Civil Rights Association (NICRA) had marched to bring about constitutional change. Anti-internment protests actually preceded internment itself by over eight months. A demonstration outside the Dail took place in late December 1970.
During early 1971, several newspapers assessed the case for internment, with few agreeing that its reintroduction would be a good idea. Following the triple murder of three young soldiers of the Royal Highland Fusiliers on 9 March, however, attitudes hardened considerably. The soldiers, aged only 17, 18 and 23, were lured from a central Belfast bar to a hillside at Ligoniel where they were callously shot dead. The murders of the Fusiliers changed the military campaign, telling of a far more ruthless foe than had been previously anticipated. Thousands of Belfast dockyard workers downed tools to march, demanding the introduction of internment.
On 16 March, the Stormont Prime Minister James Chichester-Clark met with the Home Secretary and the Secretary of State for Defence, Lord Carrington, to ask for 'substantial reinforcements' so that troops might be able to occupy riot areas permanently and to impose limited curfews in an attempt to force the IRA to withdraw from nationalist areas; 'He stressed that action must be taken at once otherwise it would be impossible for his Government to survive.' For Carrington additional troops did not seem justified and Sir Harry Tuzo, the General Office Commanding Northern Ireland, who was also present, agreed that his resources were adequate. However, when Chichester-Clark raised the subject of internment, Tuzo decided that it would need two additional battalions to implement it, without considering the additional manpower required to handle any rioting which arose. Tuzo also voiced his concern that internment, by provoking fresh confrontations in national areas, 'would be to alienate many of the decent Catholics and this would make the Army's position more difficult.'
On 23 March, Northern Irish Prime Minister James Chichester-Clark was replaced by Brian Faulkner. Faulkner brought with him a reputation for decisive action against the IRA, having been Minister for Home Affairs in 1959. By the summer, internment had become one of the final cards that his government had to play with a view to reclaiming the initiative regarding the security of Northern Ireland. During talks between Faulkner and his security advisers 'the message was beginning to come through that there was only one major unused weapon in the government's anti-terrorist arsenal - internment.' Tuzo recommended against using internment, arguing that an increased troop presence on the streets would have more of a disabling effect to the IRA than internment
Internment, or more accurately the arrest operation which facilitated the internment of suspected paramilitary members, began on Monday 9 August 1971.
In the early hours of the morning, soldiers deployed to the streets of Northern Ireland and arrested over three hundred people. They were taken to three regional holding centres: Magilligan just outside Derry, Girdwood Barracks in north Belfast and Ballykinler Barracks in County Down. They were then identified and questioned and subsequently either released or interned in the Crumlin Road prison or aboard the HMS Maidstone, the infamous prison ship moored in Belfast Harbour.
During the initial round of arrests, only Catholic areas were targeted. No loyalists were arrested at this time, although by the time internment ended in December 1975, around one hundred had been interned – roughly nineteen times less than the number of suspected republicans.
Reaction to internment was quick and vicious. Widespread violence broke out across Northern Ireland with seventeen deaths occurring in the immediate aftermath. Private Malcolm Hatton, UDR Private Winston Donnell and Bombardier Paul Challenor were all killed by the IRA on the first two days of internment. Hatton was killed during mass outbreaks of violence which centred on the Ardoyne area, where his Royal Green Jackets unit was operating, and Ballymurphy. Mother of nine Sarah Worthington was shot dead inside her home in the Ardoyne area. Also killed during gun battles was leading Ardoyne volunteer Patrick McAdorey. A few miles away in Ballymurphy, the site of serious rioting between locals and troops the previous Easter, eleven were killed, including Father Hugh Mullan who was shot as he attempted to administer the last rites to a wounded man. In a tragic twist, the injured man turned out not to be mortally wounded and Father Mullan was shot dead as he attempted to return to safety.
The major criticism of internment was the fact that so many of those interned were not active republican paramilitaries. There is substantial evidence to attest to this fact, with elderly men and young girls numbering among those taken into custody during raids. Of the 342 suspects lifted on 9 August, 105 had to be released within forty-eight hours and most of the IRA leadership slipped the net.
This was not necessarily recklessness on the part of the troops, however: the elderly men did still feature on security lists because of their past involvement with the IRA and the children taken in were done so for their own good; in one instance a father was to be arrested and with no other parent or responsible adult present, the child was also brought in for their own safety.
When British troops arrived at the McGuinness house in Derry, they found Martin absent so arrested his brothers instead. The fact that McGuinness was targeted, unsuccessfully, for internment suggests that in many instances, the British Army intelligence was not as flawed as is often made out. Lists of those interned were published in a variety of media and the names resonate with any historian of contemporary Ireland: Gerry Adams, Maire Drumm, Kevin Hannaway, Frank MacAirt, Jim Gibney, Denis Donaldson, Bobby Sands, Freddie Scappaticci, Anthony "Dutch" Doherty all numbered among those interned. Indeed, Doherty, a leading member of the Ardoyne PIRA which was believed responsible for the murders of the three young Fusiliers was claimed to have been an excellent source of information during his interrogation.
Major General Anthony Farrar-Hockley, Commander Land Forces, argued that the internment arrests had provided 'a lot of very useful information, though of course of relatively short-term value.' Later, Time magazine cited an army officer who claimed that ninety percent of new intelligence was a result of internment arrests and, undoubtedly, the controversial interrogation measures.
Prior to internment, NICRA had called for resistance on the part of local communities and barricades were duly erected, creating no-go areas for the security forces and zones of liberation within which the IRA could operate relatively unmolested.
A significant, but often overlooked, consequence of internment was the fact that it actually enabled the Provisional IRA to organise. Internees were brought together inside internment camps and volunteers were now able to interact with comrades they would never otherwise have had much opportunity to meet. This helped created an organisational identity which the movement had previously lacked.
Over the remainder of 1971, thirty-seven soldiers lost their lives in Northern Ireland, almost all at the hands of the Provisional IRA.
In early 1972, it was announced that a second internment camp would be opened at Magilligan, a short distance from Derry. Magilligan had been used as a regional holding centre, primarily for those arrested in the northwest and had been guarded by the locally resident Royal Green Jackets. Internees were then transported to Long Kesh, a World War II airfield near Lisburn which would become one of the most infamous paramilitary prisons in the world thanks largely to the 1980 and 1981 hunger strikes of its IRA prisoners.
Rumours spread that Magilligan might be used as an internment camp for women and predictably angry reaction occurred across Northern Ireland as well as in the media. On 23 January 1972, a series of protest marches took place; at Magilligan, Derry and Armagh. At each demonstration, troops fired rubber bullets and deployed CS gas. Violence lasted well into the night, with a series of explosions occurring in the Bogside area. Involved in riot control in the northwest were the soldiers of 1Para. The following week, serious criticism of the conduct of the soldiers of the Parachute Regiment appeared in the press. Troops from other units reportedly requested that the Paras be kept from their areas of responsibility. The aggressive actions of British troops could not, however, quell the spirit of the protesters.
Another march was organised to take place in Derry on 30 January 1972. Again, the soldiers of 1PARA would be on duty.
In 2013, researchers at the Derry-based Pat Finucane Centre, named after the Belfast solicitor who was murdered by loyalists in February 1989, with strong allegations of British collusion in the killing, were working at the National Archives of the United Kingdom in Kew, in southwest London. Here, they uncovered documentation about the case of the "hooded men", a group of fourteen suspected Irish Republican Army volunteers who had been selected for interrogation in a special interrogation centre at Ballykelly Army Barracks just outside the city of Derry. Here, they were subjected to the infamous "five technique" of interrogation: hooding, stress positions (usually standing with their legs spread, on their toes, leaning against a wall with their fingers high above their heads supporting their weigh), white noise, sleep deprivation and deprivation of food and water, as well as violence and death threats. It had been previously suggested in "Inside the Torture Chamber", a BBC Radio Ulster documentary, in 2012 that the British Army had used water boarding on suspects during this time.
The British security forces had received criticism during the 1970s for their aggressive interrogation tactics. On 30 October 1971, Amnesty International reported that it had found a prima facie case of brutality and torture. In response, the Irish Government launched a case at the European Convention of Human Rights against the UK. In 1976, after internment without trial had been phased out, the European Commission on Human Rights found that the UK had tortured the men. The UK appealed and in 1978, the ECHR decided that the interrogation amounted to inhuman and degrading treatment rather than torture.
In November 1971, the British Government, responding to widespread public anger, commissioned the Parker Report, chaired by Lord Chief Justice Parker. It was published on 2 March 1972, just over a month after Bloody Sunday, and found that the five techniques were illegal. That same day, Prime Minister Edward Heath made a statement to the House of Commons that the Five Techniques would no longer be used during interrogation.
On 3 December 2014, the Irish Government announced it was to ask the European Court of Human Rights to revise its judgement on the case of the 'Hooded men'.
This followed a call by Gerry Adams in a letter to Taoiseach Enda Kenny, reported in Irish Republican News on 29 November, to ask for the case to be reopened based on new evidence which emerged thanks to work by the Derry-based Pat Finucane Centre at the British National Archives in April 2014. The PFC researchers found state papers including a letter from then-Home Secretary Merlyn Rees to then-Prime Minister James Callaghan where he wrote:
It is my view (confirmed by Brian Faulkner before his death) that the decision to use methods of torture in Northern Ireland in 1971/72 was taken by Ministers – in particular Lord Carrington, then Secretary of State for Defence. If at any time methods of torture are used in Northern Ireland contrary to the view of the Government of the day I would agree that individual policemen or soldiers should be prosecuted or disciplined; but in the particular circumstances of 1971/72 a political decision was taken.
The essence of the Rees letter is that government-directed torture was acceptable, whereas ad-hoc torture on the part of the interrogators was not. What is most significant is that such aggression in terms of government policy was actually reflective of British thinking on Northern Ireland at the time.
Prior to the enactment of Operation Motorman, the July 1972 reclamation of the 'no-go' areas that the IRA had established over the course of 1971 and early 1972, military planning spoke of a far more aggressive Operation, codenamed Folklore, which would see the province flooded with troops and redefined the rules of engagement, with 'shoot on sight' permissible for suspected terrorists.
That interrogation verging on, and frequently becoming, acts of torture should have occurred and been authorised by politicians is both unacceptable and yet unsurprising. There is a very real sense from reading British state papers that the Northern Ireland situation was threatening to boil over into open warfare and it was not until Motorman, when the Army was able to re-establish control over security across the Province and force the IRA to redefine its own campaign – ultimately a total reconceptualization of the IRA campaign would take place in 1976 – that the UK Government felt it had the upper hand.
Now, it is being challenged once again in the court of public opinion, and very may well be challenged by the European Human Rights Commission to answer to the charges of over forty years ago.
Under EHRC rules, the case had to be reopened within six months of the new evidence emerging. The campaign to reopen the case also had the support of Amnesty International, who had previously condemned the actions of the Royal Ulster Constabulary's interrogation team in Castlereagh Police Holding Centre in East Belfast in 1978.
The twelve men are Francis McGuigan, Jim Auld, Patrick McNally, Gerard McKerr, Liam Shannon, Kevin Hannaway, Michael Donnell, Brian Turley, Joe Clark, Paddy Joe McClean, Pat Shivers (deceased, represented by Tony Shivers) and Michael Montgomery (deceased, represented by Deirdre Montgomery).